TNW Magazine, from The Next Web, is a free digital monthly magazine available for download on the last Friday of every month. TNW knows how to make an eMagazine! With a cleverly written #want section, inspiring stories about technology, innovation and startups, and regular content that keeps you scrolling for more – TNW Magazine is a fun read.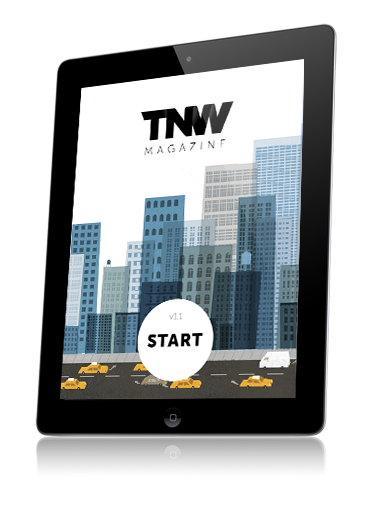 Just announced yesterday on TNW Magazine's Facebook page, the January issue has been downloaded 41,000 times this month – this is roughly the same number of downloads they had in the first nine months. Boris Veldhuijzen van Zanten, co-founder of The Next Web and initiator of TNW Magazine said, "we (TNW) foresee huge opportunities for publications that got in early and are using creativity and innovation to deliver magazines that go beyond just converting paper content to digital. People seem to love digital magazines that incorporate music, movies, and general interactivity and really make use of all the possibilities that tablets offer."
This app is hot and it is not hard to see why. Created with Mag+, the January 2013 eMagazine includes several fun pieces from the regular content list with interesting interactive features.
The Web's Best Videos
Since 72 hours of video are uploaded to YouTube every minute, finding the good stuff can be tricky.  TNW Magazine filters and lists a small collection in each issue for their users. Scroll through the list of videos, read the short excerpts in the app or click through to watch the full video. Two of my personal favorite videos in the January issue are 'Startup Weekend' a video about an entrepreneur on a mission to create an ice-cream truck finder app, and 'The Leap Year' an award winning web-series about the ups-and-downs of Silicon Valley life.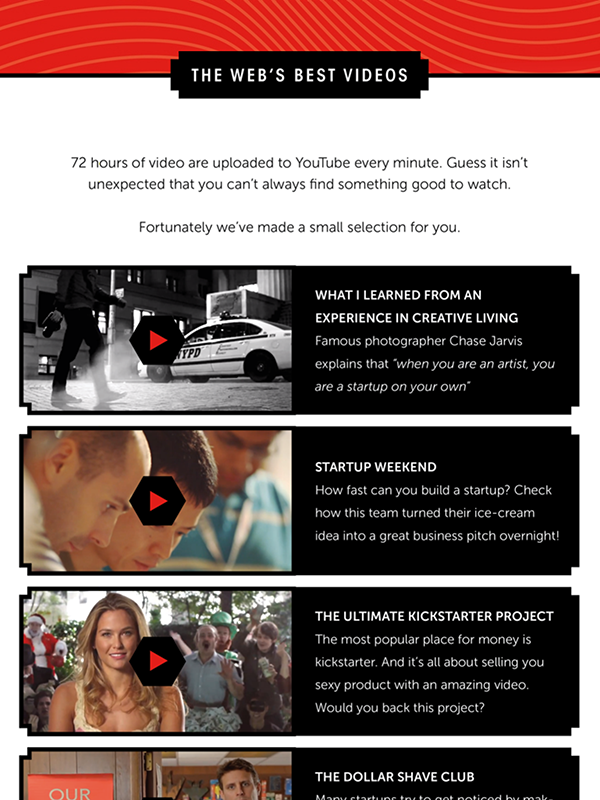 Tweet Dashboard
Showing their fun side, TNW Magazine offers up a tweet dashboard in each issue. This way users don't have to draft up their own tweets about what they think of TNW Magazine, they already have a selection to choose from. One-touch tweeting functionally!
#Want
The #want section showcases the coolest gadgets, apps, books, movies and music. When users click into the music section, for example, they can read up on five new artists and click into the feature for an instant audio sample from the artist. Listen and decide if that artist matches your style.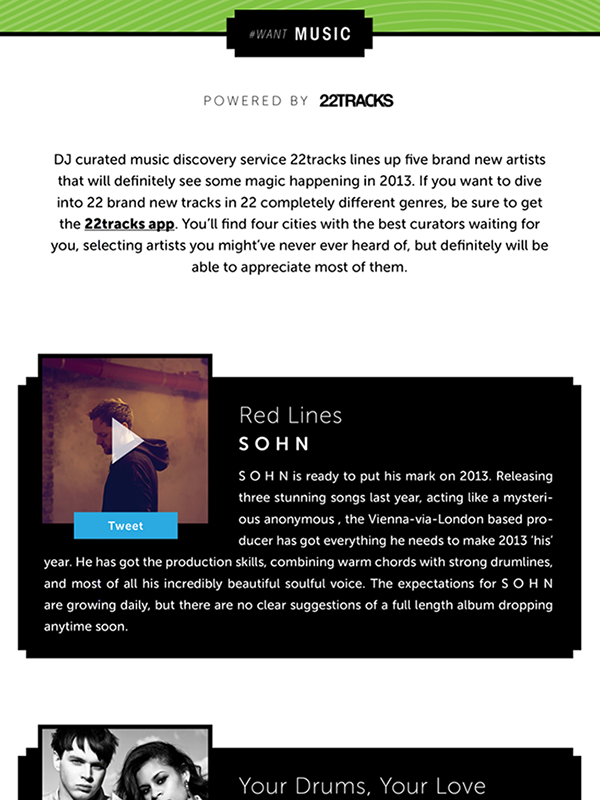 Let's Ask the Experts
Each issue asks the experts a relevant question. This month the question is, "is this the perfect time for startups?" I'll let you download the app and find the answer to this yourself. Once you've read through all of the expert opinions you can easily share the page by one-touch tweeting or emailing it out to friends.
Finally, the January issue of the eMagazine wraps up with three fantastic feature stories:
The entrepreneurial bug: How a founder decided running a company was better than joining one
Losing money, investing on the long term, and building a real business
What you need to buy to look like a startup
TNW Magazine is available on the iPad and iPhone. Download the January issue today.
More information about how to make an emagazine with Mag+