It can be a lot of work keeping up with technology. In the ever-changing development industry, the days are never dull, but the hard work certainly pays off.  We are proud to announce that more than 1,000 apps have now been created using the mag+ tools, and we could not be more thrilled! Throughout the process, we have learned quite a bit. Below are just a few of the insights we've gained while helping you to create 1,000 apps with our digital publishing services.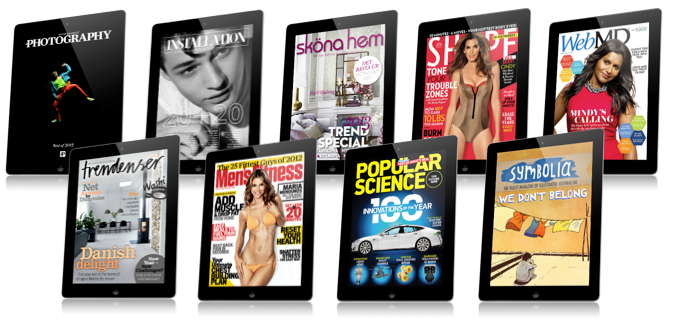 There is revenue in the mobile app industry
Since its inception PopSci+ has made $1,560,000+ net from iTunes through 6 million unique downloads and 180,000 single copies sold. Downloads and revenue numbers are on the rise for AMI as well. For Men's Fitness, Sept 2011-Jan 2012 vs. five months prior, downloads are up 200% and revenue is up 193%. SHAPE Magazine's Sept 2011-Jan 2012 vs. five months prior, downloads are up 400% and revenue is up 218%! Those are some fantastic increases.
Content must be reimagined for each 'canvas'
Device and screen size dictate how and when various types of content is consumed. A PDF is not ideal for a tablet, content created for an iPad might not work well on an iPhone, and content the that works best on an Android device is created specifically for that Android device. Consumers experience content differently on various devices, and it's important to design with that in mind. In the future, look for more publishers to offer something resembling a content 'membership' rather than a subscription. This might include content for tablets, smartphones, websites and more.
Advertising is going to get fun
We have seen great leaps in the creativity used in advertising. In the beginning print advertisements were converted into PDF's and slotted into tablet publications. Now advertisers are figuring out how to best utilize the devices they advertise on to reach their markets in an engaging way. Kashi created an ad for SHAPE Magazine that was camouflaged as a game, allowing users to play a catch and release game that was Kashi branded. We expect to see more of this creative advertising in the future. View the full Kashi add here.
Creativity wins the day
This month Popular Science launched an app called "PS Audio on the Go" which provides an audio collection of excerpts from each months issue. What a fantastic idea! Creative use of video, audio and imagery, such as moving magazine covers, content appropriate soundtracks and even games are all tools content companies can take advantage of if they think creatively.
Thank you for helping us cross the 1,000 app marker! We can't wait to see what's next.
More information about Mag+ and our digital publishing services.