Do you have a great idea for an app, but don't know where to start? Or perhaps you have already started to create mobile applications, but need to spread the word? Wherever you are in the process, ensuring that your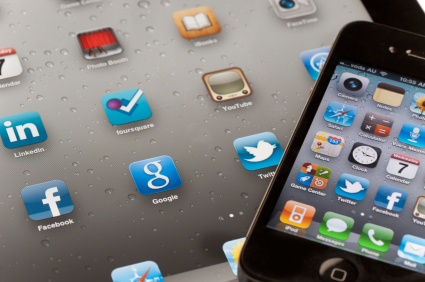 app is a success often depends on how well it is marketed. With 18.67 billion apps downloaded in 2012, the app industry is clearly a competitive one. Those who market their app will rise above those that leave it to chance. Unfortunately, there is no simple step-by-step app marketing guide. It can be difficult and many elements need to be done simultaneously. However, if you put the work into it, the rewards will be great! Here are 5 tips for marketing your apps!
Market Research
It is crucial to make sure that there is a market for your app. Research different app categories, and specific apps that provide a similar service and or content to what your app will provide. There are several online tools that can help you with your market research. App Annie and Distimo are websites that offer app analytics and market intelligence. Apptrace is another good tool that provides insight to the app economy. With these tools you can easily find top listed apps within specific categories based on downloads and engagement. Do your research. It will pay off in the end.
Create Your Mobile App & Spread the Word
mag+ is a digital publishing platform based on an InDesign plugin.  Whether you are looking to make a consumer, corporate or enterprise app, the mag+ platform is an easy way for you to create smartphone and tablet apps without any programming skills. Learn more about the mag+ tools to get started with your app design and creation. It is critical to keep the user experience top of mind when creating your app. It must be easy to use, and a beautiful design certainly goes a long way.

As you are creating you app, start the hype online. If you don't have one already, you should create a website and Facebook page for you app, and start to cross promote. Do you have a personal blog? This might be a good outlet to begin marketing your app as well. Begin building the online presence of your app.
Optimize for the App Store
We recently did a series of blog posts with mag+ product expert, Anders Odevik. He provided best practices for naming your app in the App Store, selecting the best category for your app, designing app icons for the App Store, and using keywords in your App Store listing. Following these guidelines will greatly improve your visibility of your iOS app in the App Store. If your app is in English, we recommend you consider localizing your app. The translation of the app name in the App Store will increase downloads.

Engage with Your App Users
More and more tools are becoming available to improve engagement with your app users. It is important for you to understand your audience so that you can better meet their needs. As their needs are met, they are more willing to return to your app. Appboy is a fantastic customer engagement platform that pulls information from your app users to help you to better understand, engage and monetize your audience. Through this platform you can see how users are using your app, and send them relevant push notifications to keep them coming back for more.
Dont' Give Up!
Don't stop marketing your app after its launch. It is an ongoing process. Remember to measure your user engagement, cross promote your app on other online properties and continue your marketing efforts. There are tools to help you along your way! Apptamin is an app marketing firm that offers some fantastic services. If you have not seen their website you should. Their blog is packed with valuable information and marketing tools for developers, including this great iOS App Marketing Strategy Guide.
More information about creating mobile applications with Mag+.