For many consumers, tablet and smartphone computing has augmented, or even replaced, older forms – the desktop or laptop. Part of the change is due to the fact that, "consumers will now look at a task that they have to perform, and they will determine which device will allow them to perform such a task in the most effective, fun and convenient way. The device has to meet the user needs not the other way round", explains Gartner analyst Ranjit Atwal. Consumers are in the midst of a computing revolution! And, while businesses have been slightly slower to adapt, mobile computing has and will continue to revolutionize the way companies communicate with their employees
There is a shift happening in the app industry, a shift in the type of apps being developed. Consumer facing applications continue to be extremely popular, but it is the enterprise app that is truly on the rise. For those of you that are asking yourselves, what is enterprise application development? let's brush up on the facts.
Enterprise applications are proprietary, in-house apps that can be privately distributed to a set of individuals. A business, for example, could distribute their enterprise app through email, or even upload it to the company intranet. In order to develop an enterprise application, you must have an iOS enterprise developer license.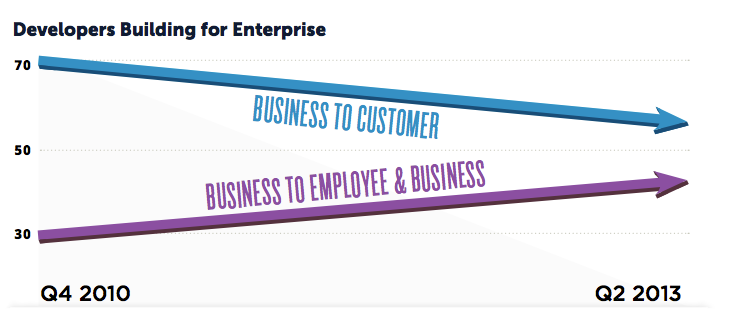 According to the Q2 2013 Mobile Developer Report, the largest survey of mobile app developers, by Appcelerator & IDC, the percentage of developers building business (B2B) and employee (B2E) apps has increased, while the percentage building consumer apps (B2C) has decreased. It's not that consumers have lost their appetite, but that enterprises are just beginning to awaken theirs. The report explains: "While an enterprise may have only a couple of customer-facing apps, it will likely have requirements for tens or hundreds of employee and partner-focused apps (expense reporting, dispatch and routing)."
Though enterprise needs are very different than consumer needs, it's clear that in some instances, tablets provide a more efficient and effective way to complete the day-to-day tasks of business managers.
Here are some examples of what an enterprise application can do for your business:
Increase employee engagement
Increase employee efficiency
Aid in customer satisfaction
Collect customer intelligence
Aid in internal communication
If you're ready to develop an enterprise application, let mag+ help you get started. Our platform offers everything you need to create an effective enterprise app. Download our tools today.