I'm excited today to unveil our newest third-party integration: Appboy!
One of our goals this year has been to do more to help you be successful in your digital media publishing, whatever that means for your business: more subscriptions sold, more issues opened, longer time spent on page, etc. And we continue to feel strongly that integrating best-in-class third-party partners is the best way to do this. That's what led us to Appboy (actually like so many of our best ideas, Appboy came to us through a client first). Messaging is a busy category in the app add-on industry, but what we love about Appboy is that it goes beyond messaging. The guys there refer to it as mobile relationship management. And while that sounds like a mouthful of marketing, it's apt: this is a platform for getting to know your users and building a relationship with them—the key to long-term success.
So what does Appboy do? Three primary things: targeted messaging, in-app newsfeed and in-app feedback.
First, the messaging.
Without Appboy your only communication channel with users is a blunt tool: a push notification that goes to anyone who accepts them. Appboy allows you to instead segment your audience based on actions, and send messages—push, in-app (via a little banner at the bottom), e-mail (if you have it) or even a news feed item—only to those users. Moreover, you can set up campaigns to send those messages recurring, with Appboy automatically figuring out who's already seen the message, who no longer fits that group and who now does.
The events we're capturing that allow for that segmenting are basic to begin with, but enough to form some useful campaigns:
Users who have opened the app at least twice but never bought anything—remind them of your latest sale price 

Users who have downloaded an issue but not purchased a subscription—remind them what a good deal a subscription is 

Users who have opened the app but never downloaded anything—highlight your latest issue, or a free trial issue

Subscribers who haven't opened the app in more than 60 days—tell them what they're missing

Users who have opened the app more than 30 times – reward their loyalty with a special offer
There are dozens more possibilities. And we'll be constantly expanding the events we capture as we work with Appboy and you to figure out what works, what doesn't and what you need.
Second, the news feed – another powerful tool.
This is a dedicated space in your app (a new button at the bottom) where you can publish messages and articles, and unlike the banner in-app messages, they remain, so people can go back to them. For each message, you can upload a picture and include a link. You can even program an RSS feed to auto populate the feed. This is a fantastic edit tool for making your app about more than just your issues: add a daily or breaking news feed! Even better, make it a subscriber benefit—since you can segment news feed items, you can say only subscribers get these breaking news alerts.
Third, the feedback mechanism that should not be overlooked.
We've long advocated giving your users 101 ways to reach you so they don't complain in the iTunes store, depressing your rating and turning off new users. Plus, it's great to learn what they think. Inside the news feed window, there's a button called Feedback. When someone sends you a message there, you can see it in your Appboy dashboard, as well as what device they're on, how many times they've used the app and more. And you can reply directly to them in-app or by email. It's a great customer service tool.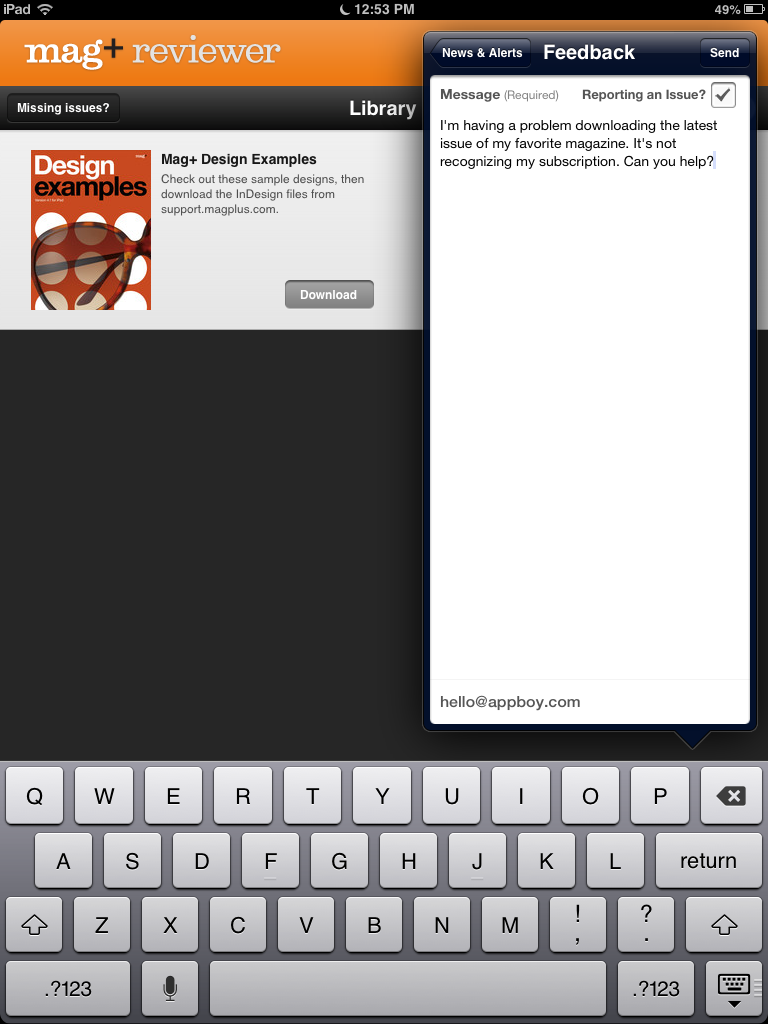 To learn more about Appboy, sign up for the webinar this Friday, and email magplus@appboy.com to ask about a free 30 day trial!
More information about Digital media publishing and Mag+.