Compassion International is an inspiring non-profit that exists as an advocate for children, helping them escape poverty to live fulfilling lives. What an amazing mission!  Compassion was established in 1952, and is now helping more than 1.4 million children. They change lives through several different programs including; the Child Sponsorship Program, the Child Survival Program, the Leadership Development Program and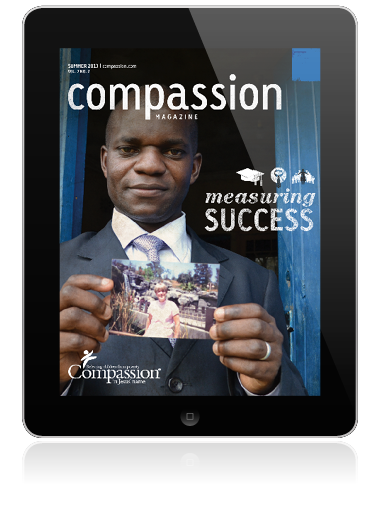 Complementary Interventions.
Not only do the people working at Compassion International have big hearts, they also have an amazing sense of design. This becomes obvious when you read Compassion Magazine, which is now available on the iPad for free. The Summer 2013 issue of Compassion Magazine is titled 'Measuring Success', and includes inspirational stories about children growing up in poverty, and how sponsorship saved their lives. Some children persevere and even gain their Ph.D.
Download Compassion Magazine today to be inspired by both touching stories and a beautifully designed mobile application. Created on the mag+ mobile publishing platform, this iPad app will not disappoint.  Smooth scrolling A-layer with artfully crafted background images make this a fantastic experience. Below is a sneak peek of Compassion Magazine. Enjoy!
More information about the Mag+ mobile publishing platform.