With the 2013 French Open riling up tennis fans until June 9th, we thought it was the perfect time to have a quick chat with our new client SW19 Members Club, a worldwide virtual tennis community.
SW19 Members Club has recently created a mobile app of the SW19 Members Club Magazine, which is the brainchild of British journalist and tennis coach, Melina Harris. Melina holds a degree in English Literature, is a fully qualified NCTJ journalist, and is a LTA and PTR licensed tennis coach. The magazine started off a humble WordPress blog, which became heavily followed by tennis enthusiasts on Twitter. The blog then expanded to become the SW19 Members Club website. This community and lifestyle website for tennis professionals around the world has led to the launch of the digital interactive magazine.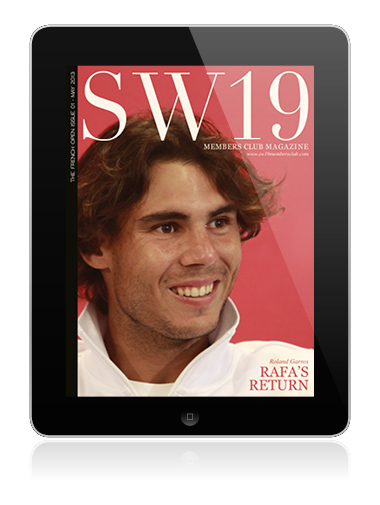 By creating a mobile app, Melissa's goal is to make the SW19 Members Club Magazine the most popular tennis magazine in the world, allowing tennis professionals across the globe to share their passion for the game in an interactive and forward-thinking format.
Tennis has become incredibly popular; celebrities like Roger Federer and Maria Sharapova bring a certain glamour and appeal to the sport. This magazine envisions tennis as a lifestyle, with content ranging from on and off-court style, tournament social guides, Twitter gossip, to quality product and psychology advice from renowned professionals in the tennis world.
Two attempts have been made to create an app built from scratch from developers, but neither succeeded- until now.
"mag+ was the best plug in we came across, which allowed us to build a store and also design with interactive content ourselves," says Melina Harris.
"mag+ provided training to our team, to allow us to maintain and publish the content in innovative ways. They are always at the end of an email for help and advice and they provide design help for special pages".
Check out our highlights video of the app below. You can read more about Melina's targets and how she plans to promote the app as well.
According to Melina, their target audience is tennis fanatics, including fans of both the ATP and WTA Tours, along with players, coaches, athletes, writers and anyone else attached to the game, from the grass roots amateurs to the professionals. They are promoting the app through an extensive social media campaign on Facebook, Twitter and LinkedIn, in conjunction with marketing campaigns during major tournaments. Since the launch of the app, they have made it to the What's Hot section in both the iPhone and iPad Apple Newsstand stores under the Sports and Leisure category.
Melina hopes to expand and publish to Android devices in the near future and collaborate with other tennis organizations and brands to further increase their brand and audience. Luckily, mag+ 4.2 has now launched allowing them to quickly and efficiently reach their targets!
More information about creating mobile apps with Mag+.