Enterprise apps continue to increase in popularity, as companies better understand the possibilities that come with today's touchscreen devices. It's clear that corporate organizations, large and small, can benefit from enterprise apps, whether presentations and proposals, training manuals, product guides or internal company newsletters.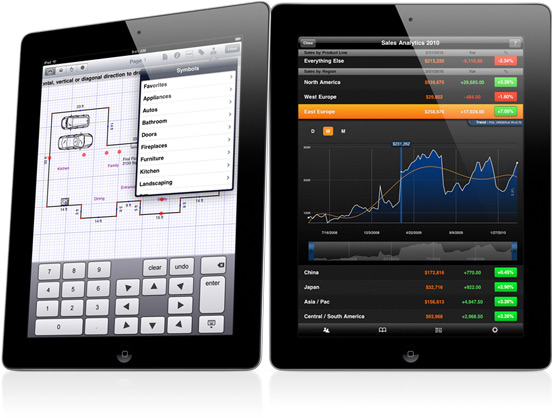 Many organizations do not want, and cannot afford, to start from scratch when it comes to iOS enterprise development. Instead, using a platform like mag+ to generate an enterprise app can save companies time and money. Here are three specific mag+ features that can benefit your internal app.
In-App Library with Search and Subscriptions
mag+ apps serve issues—whether those are magazines, manuals, brochures or presentations. The mag+ in-app library allows corporations to manage the issues they create. The library can hold a large amount of internal documents including training materials, presentations, internal newsletters, financial reports or brochures. Users can search the library for the title of the issue they are looking for, allowing them to find what they need quickly. You can even offer a free subscription to make sure users always get the latest materials automatically downloaded to their device.
Subscriptions API
You can make all issues available to all users with the built-in mag+ library, but often you want to control access to issues, allowing different users or groups to get different material based on their role in the organization.
The mag+ subscription API can be useful for iOS enterprise apps by providing an off-the-shelf sign-in functionality. For example, if I work in the marketing department and need access to all marketing presentations and training documents but do not need access to the support staff training materials, I can sign-in as a marketing employee, or simply pull down a menu that identifies that department, and my library will automatically populate with only the materials I need to see. This feature allows you to set permissions in your user database and change them in real-time, giving or taking away access to particular materials, which will save iOS enterprise developer hours, as there is no development time within the app. The sign-in window is completely customizable through simple HTML.
SDK – Customized Apps for Your Company
mag+ offers a powerful branded white-label app, but if your organization needs further app customization, you can use the mag+ SDK. These are components that take advantage of the mag+ InDesign creation tools and distribution backend while letting you build your own app interface around those components. With the SDK the possibilities are endless. A company can create an advanced library interface that organizes issues in a way that might resemble folders. The SDK allows you to change the "first run" experience, presenting a sign-in window as the first thing users see, for instance. With the mag+ SDK you can have more control over the organization of your app.
You can also add mag+ functionality to existing apps. For example if your company already has an internal sales app, the mag+ SDK allows you to add a menu or tab that includes content created with the mag+ toolset. This saves you from custom coding all your content, so you can focus development resources on the interface and app functionality.
Save your corporation precious iOS development time by using mag+ to create your enterprise app. Get started today by downloading the free mag+ tools, then contact us to let us know how we can help.
More information about iOS enterprise development with Mag+.