Award winning Creative Director, Troy Myatt, gives us insight into where he finds his inspiration for designing iPad publications, and the specifics on one of his most moving projects.
Beginnings
Transitioning from print to digital was a challenge when our team began developing RANGE Magazine for the Southwest Airlines Pilots' Association. The rudimentary processes for developing a print publication we knew well, but applying those into a digital and transitional format was a learning curve. As we began to design within the mag+ system, it quickly became intuitive and RANGE began to come to life.
For inspiration, I began studying several iPad magazines that hit the newsstand app as digital publishing began to take off. The best examples I found were Relevant Magazine and how they approached animated covers (well done by the way) along with typography and art transitions within their features, Richard Branson's magazine Project and I especially liked the animated Tron Legacy cover with Jeff Bridges and Esquire with how they used video from their feature photo shoots to produce a cover.
With having those magazines as inspiration, I knew I wanted to continue to apply a less-is-more approach that I have used in every print publication I've designed and directed. Given our target audience who focuses heavily on words, there would need to be a strict balance between art, typography and positive/negative spaces in the design for best use of the screen real estate of the iPad. The formula developed for RANGE was to use only 3-4 typefaces for the entire publication (with an exception for feature headlines), a clean grid system, simple transitions, reveals, and ample white space to allow for copy to be easily read.
With this foundation in place, the focus could be more on developing feature stories. Having studied how other tablet publications treat their features, beyond what I mentioned previously as inspiration, I found that they were static, doing very little in welcoming the reader into a story. I wanted to change that with the art of surprise through simplicity.
There are several simple examples of this in both issues of RANGE and I found that readers spent more time with these feature openers, becoming engaged with the words and typography that eventually unfold to become art itself. The first use of this was for the crisis intervention story, where our Southwest Airlines pilots were on location the day of the tragic air show crash in Arizona. Knowing the details, I chose not to show any photographs, feeling that they would be too exploitative and sensational. Instead, I chose a broken typeface to communicate the shattered lives of this tragedy. This technique became the format for how we treated our reveals, adding fun to the challenge of design.
RANGE Magazine from Troy Myatt on Vimeo.
Natural Inspiration
Beyond studying other digital works, when I am not working, I spend the majority of my time in the outdoors. Fishing, traveling and sometimes far away to go surfing. When I was asked to contribute this article, the overall question was where do I get my inspiration for touchscreen design? I have to say the majority of my inspiration for any design comes from being in the outdoors and seeing the design within nature, how it reveals itself with change, growth and beauty. For a basic example, look at an oak tree upright. Flip it upside down it becomes an almost identical representation of our lungs and it's functions. I see this and many other influences for design through what surrounds us daily.
Flying Honor
The inspiration for the second issue's "flying honor pilot" cover came from several sources. The first and obvious one is from the story itself, which tells how pilots flight crews pay respect to our country's fallen service men and women. The main feature is from a pilot who we work with on a daily basis. He's a character, but that quickly switched off when he composed this tearful story, and it became personal to us all as we designed the layout and cover together. The real challenge was: how do you show this kind of honor visually?
I spoke at length with our Communications Chair and First Officer Jacob North about his experience in flight with these situations, as well as the entire procedure of what happens when pilots and flight crews transport remains on their flights. It became clear that they always demonstrated professionalism, composure and respect with underlying emotion
I condensed this information into a single image that could reflect all of these emotions: a pilot with a slight facial expression of holding his composure with a single tear sliding down from beneath his aviator sunglasses.
The concept was solid, and the next step was getting it illustrated. I love illustrated covers, and miss the traditional style that was used to promote movies during the Ralph McQuarrie and Richard Amsel trend in the 1970s and 1980s. Their work was simple, expressive, balanced and elegant unlike many of the mainstream Hollywood posters are today with cascading faces with no character. I contacted agent Richard Solomon out of New York and he hooked me up with the amazing illustrator Chase Stone, who has a style that closely matches the artists I admire. He showed me an illustration of a grandmother holding a boy looking out from a space station window, and the emotion of that image sold me. He knows how to use lighting and composition so well. I sent him a direction and received a perfect first draft, which quickly went to final. I highly recommend him.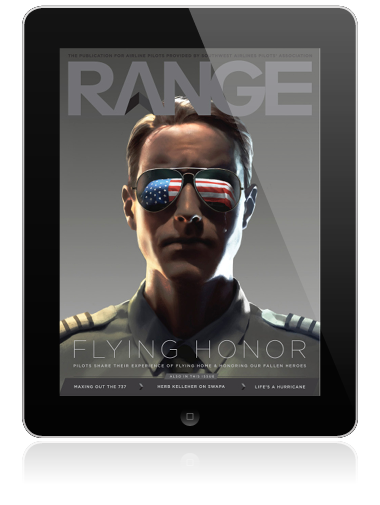 The cover became the perfect icon for the pilot's stories, and the illustration won a Silver at the Dallas Society of Visual Communication's Awards Show. The entire issue won the overall Judge's Choice Award as well as winning Best Development of a Mobile App for a Tablet Trade & Consumer at the WPA Maggie Awards in Los Angeles.
From the experience of designing within mag+, I've been able to show the value of both interactive design and editorial to clients. I'm using this same approach for a new iPad magazine, Lights, that I'm developing with Jim Kirk Productions for the corporate/special events industry.
About the Author 
A self-described "wrangler of white open spaces," Troy Myatt is an award-winning North Texas designer whose career has taken him from ad agencies to in-house marketing departments to Fortune 500 companies. He has a reputation for clean, high-end design and branding that are always on target creatively and strategically. Currently, he serves as Creative Director for the pilots of Southwest Airlines and also runs his own design studio, which produces work for a diverse range of clients, from travel industry firms to ranches throughout the West.  He finds inspiration in numerous places, including music, nature, fishing, surfing, all types of music and road trips to cool locales.
More information about iPad publications created with Mag+.