Who says brochures have to be boring and bulky? Working with mag+ Designd , Lennox has gone mobile by creating digital product brochures. The company sells innovative HVAC systems that help provide maximum comfort in homes. Now Lennox customers can look through a multitude of products comfortably on their mobile tablets. See how Lennox spiced up their customer experience with the ComfortCenter iPad app (also available for Android tablets).
Easy Product Browsing on Mobile Devices
The ComfortCenter mobile app features a library of digital product brochures that customers can download. With the customer's comfort in mind, the app allows them to easily swipe  through a variety of products. The app features interactive buttons that highlight key areas of the product with additional details. This feature allows text to be on the page only when needed. It gives the page a clean look and feel, allowing customers to dive in for more information when they are interested.
Customizable Intuitive Features
The app features 3D image rotation which allows customers to see the product from all sides. Animated charts and graphs are included to keep the user's attention and display data. Interactive sound bytes are also added, allowing customers to compare noise levels of the products. Lennox has done a great job using digital brochure software to maximize their customer experience and make product browsing  innovative and fun.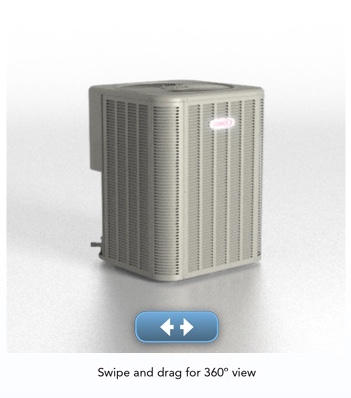 Check out the Lennox ComfortCenter app on Apple or Android tablets to  see how the app engages customers and helps them view products through a fresh lens.