mag+ recently caught up with Maxim Magazine to talk about publishing their content to iPad and Android devices and how they create their eMagazine. See what Paul Scirecalabrisotto, Creative Director and Jeffrey Dowd, Manufacturing and Promotions Director, had to say about Maxim and digital publishing in the interview below.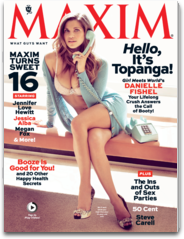 Why did Maxim first decide to get into the digital publishing space?
Jeffrey Dowd: As a large segment of our readers shift from the printed page to the digital one, we'd like to be there for them. We can deliver a richer, more interactive experience to our subscribers. Digital publications are very nimble, so they can increase your brand reach in a more cost-effective way, as compared to traditional print.
Why did Maxim decide to go with mag+ to create the Maxim+ digital magazine?
Jeffrey Dowd: mag+ was created by folks that know publishing. They've kept the tools flexible and intuitive, yet very powerful. Their approach allows for a clear workflow, so magazines can concentrate on creativity. It also helps that they provide solid customer support.
Walk us through the process of creating an issue of the Maxim eMagazine.
Paul Scirecalabrisotto: Every digital issue is created after we complete our print issue. Our approach is fairly simple. We keep the look and feel simple and consistent while adding value with exclusive Maxim videos. Videos include behind the scenes footage of our photo shoots with celebrities and models. We also redirect the reader to our website for more exclusive content whenever possible.
What is your specific role when it comes to creating the digital magazine?
Paul Scirecalabrisotto: I am responsible for the look, feel and structure of the digital issue. I also help to decide which content can or should be expanded in digital form. Functionality and readability are my priorities. Redesigning layouts to fit the tablet format is a lot trickier than it seems. We don't want to discourage the reader with anything too complicated.
Do you have any favorite features or interactive elements from issues past that you would like to highlight?
Paul Scirecalabrisotto: We are currently developing our Maxim mascot "Little Max". We are going to animate him on our pages. He's a funny little character that appears on our pages from time to time. He always has something funny to say. Now he'll dabble in physical comedy.
Maxim Magazine+ is a fantastic example of a well-created eMagazine. Elegantly designed, a smooth user experience and just enough interactive elements to keep the reader scrolling for more. Download Maxim Magazine in iTunes or on Google Play today.
More information about publishing eMagazines with Mag+