Today being the first Tuesday of the month, it's mag+ release day!
Before we get to the goodies, a quick note about the name of this release: Since all the various components of mag+ (plug-in, Production Tool, iOS app, Android app) can have different version numbers depending on when they're updated, we're moving to a new naming scheme for our monthly releases: "mag+ 5" because we're in version 5 of the system and 2014-5 because it's the fifth month of 2014. So our next release, on June 3, will be mag+ 5, 2014-6. (With this May 5 release, we are in fact versioning up to mag+ 5.1 for all the components.) 
As with all releases, the app is always backwards compatible: a 5.1 app can read all of your old issues, so we always recommend updating your app first, and once it's approved and live, start building your 5.1 MIBs. Of course you can always update the tools and continue to output 5.0 MIBs as well. If you need a refresher in building your mag+ iOS app update, see this article.
Here are some highlights from this release: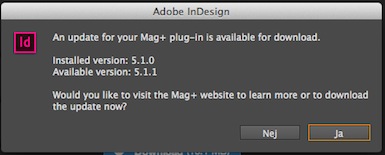 Automatic Updating: Basic, but huge. The plug-in can now automatically check for updates, or you can run a manual check. Even better, the Production Tool now automatically installs when you run the installer for the plug-in – no two-step installation anymore.
Search back in Library/Store: We've restored the search function for the Issues interface in both the iOS app and Android app that had been in the 4.X app. Meant to help your users find issues, this will search the title and description of the issue as entered in Publish. You can choose to have the search function in your app or not as part of your Build Options in Publish.
Choose your Third-party Services: mag+ offers a number of third-party services in our apps, from analytics like Localytics and Omniture, to marketing tools like Appboy and eMagazines. In the past, the code for all the services we offered was embedded in every app we built. Starting with 5.1, you can choose in Publish when you build your app which services you want built into your app. Leaving out services you aren't using reduces your risk of an Apple rejection. Note that you still have to enter the key (a string of numbers you get from the service provider) to activate most of these services in Publish. Read more about this new option here.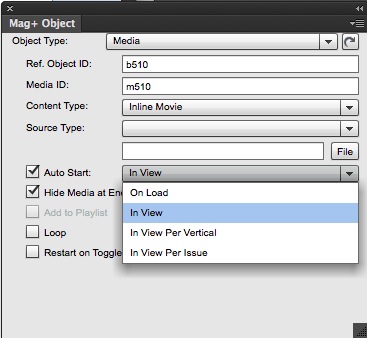 Auto-play Media Options: And finally, a cool new creative feature: You can always set movies or audio to automatically play when a user arrives on a page, but with 5.1, you now have more options. You can choose to have the media play:
On load: the media will play anytime the vertical (page) loads

In view: will only play when the media comes into view (if, say, you want the user to scroll down before they see it)

In view per vertical: the media will only play once per vertical visit. So if you have an auto-play movie at the top of the page and the user scrolls down, and then scrolls back up, the movie won't play again.

In view per issue: the media will only play once per issue open. So even if you return to a page, the media won't play again, until you close the issue and re-open it.
There are more bug fixes and small features in this release—be sure to check out the release notes for all the details.