The Odyssey Spring 2013 is the latest issue of SHK (Seen Heard Known), and an extremely inventive, fashion magazine that uses iPad digital publishing to express ideas in an arty and imaginative way. If you love design, creativity, fashion, style and music – do not miss this app. In fact, you should download it now.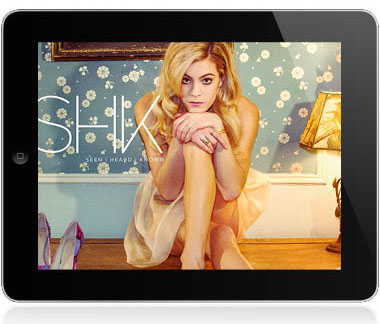 The SHK brand discusses fashion through features, interviews and editorial pieces. The lifestyle write-ups are edgy and entertaining, while the stunning fashion photography leaves you second-guessing your outfit for the day. The iPad issue, created with mag+, includes a lot of cool features. The Editor's Picks page for example, utilizes pop-ups in a fun way that showcases different products as the image flips out when a user taps on it.
The team from SHK uses the tools that come with digital publishing in such a creative way, you will want to read through the app for a second time the moment you complete it. The app is filled with animated B-layers, and creative scrolling A-layers that tell a story through images as the user scrolls through. Certain verticals feel more like art, than a fashion magazine. Rock stars, hipsters, skateboarders and folk artists – they're all there.
Get a sneak peek of the app in our highlights video below.
Learn how to use iPad digital publishing for your iPad app.