The largest English-language news network in Europe, The Local, has just launched a brand new news-app for iPhone. It's been created with the new "anyone –can-use" app creation tool Semble, currently in pre-launch and powered by Swedish digital publishing pioneers mag+.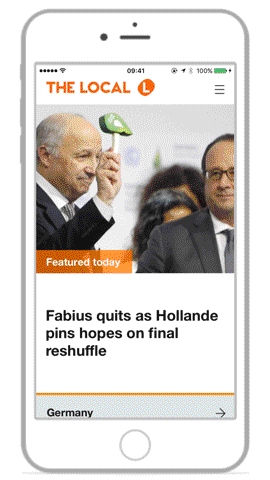 The Local is continuing their commitment to bringing local news from Europe to a cosmopolitan audience around the world. Using mag+'s new innovative app creation tool, Semble, The Local's news-app is efficiently built up using RSS-feeds sourced from their popular websites spanning nine countries. As new articles are posted on to their website, the app is dynamically and instantly updated while keeping the sleek design and user-friendly app-navigation intact.
"We have always told the story of Europe from the perspective of our different country editions, but wanted to create a place to bring these stories together. When it comes to reaching the users where they are – on their mobile devices – and creating engagement and loyalty among them, we're convinced this app is the way to go", says James Savage, founder and Managing Editor at The Local.
"From a cost and development standpoint, producing this app in-house would cost at least $50 000. Semble slashed that cost in a way that truly amazed us. It has proven to be a super-efficient app creation tool. The app is updated automatically using RSS feeds, so it hasn't created extra work for our staff. From a cost and maintenance perspective it's unbeatable: with Semble we've launched our app that, part from a small amount in in-house development, basically is costing us $39/per month".
The initial goal is to get 20 000 downloads by the end of February. The app will be promoted to their users via the website and other marketing activities. Smart and tactical use of Push Notifications and Google Analytics that is integrated with the app will help engage users and boost visibility of their brand.
The app is available free in the Apple App Store market. An Android version is also planned.
"Semble enables app creation like never before. It's not only an easy to use tool, it's also powerful and efficient and The Local's app is a great example of that. They are basically creating an app with dynamic feeds straight from their core product. We are excited and grateful for the response of our beta so far and we are preparing for a full market launch of Semble in the next few months" , says Staffan Ekholm, founder and CEO at mag+.
Semble is a Mac application and a true do-it-yourself app tool. It allows for creating app content from scratch or by sourcing content externally. Its intuitive drag and drop workflow enables any company, brand, blogger, event maker, communicator etc to create engaging apps for their businesses and products.