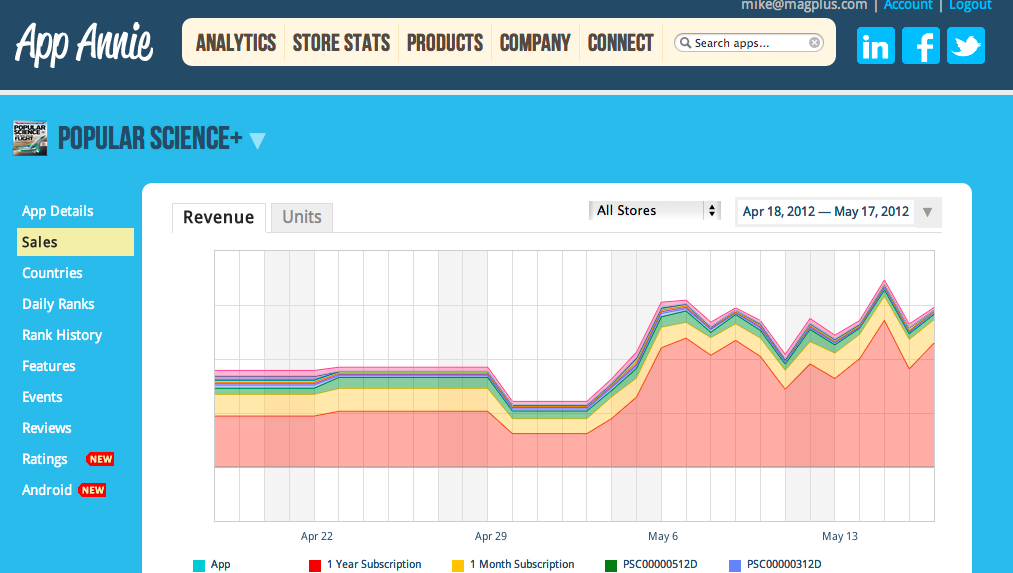 For iOS apps, there is a handful of stats you can get out of iTunes Connect, the portal for managing apps, including sales and downloads. But the challenge is that iTunes Connect only shows the past three months of data, and if you don't grab those numbers before they're gone, they're gone forever. There are a number of third-party programs and sites that can solve this dilemma for you, but the one I like best is AppAnnie.
AppAnnie is a free site. Just sign up, put in your iTunes Connect log-in, and you'll see data for all your apps. The site can show you sales and downloads for any time period, and best of all, it keeps the data stored even after iTunes stops showing it (it can't pull out data not in iTunes though, so if you sign up today, you'll only see the last three months).
What's really cool about the site is that it also shows you reviews, ratings (including those from past versions), where you've ranked in various stores around the world, and whether you're featured anywhere in the iTunes store. You can also set events, like say the release of an issue or a marketing campaign, so that those show up on your reporting graphs, allowing you to track the performance.
There are other tools like this, including Distimo Monitor, also a free site, and AppViz, a paid app. All gather pretty similar data, so I like the free, web-based ones, but I'd try both AppAnnie and Distimo and see which one you prefer. These can also measure other stores, including Android, so they are a great one-stop shop for keeping tabs on your app's success.