We are super thrilled to welcome our newest magazine for iPad on Mag+: Maxim+!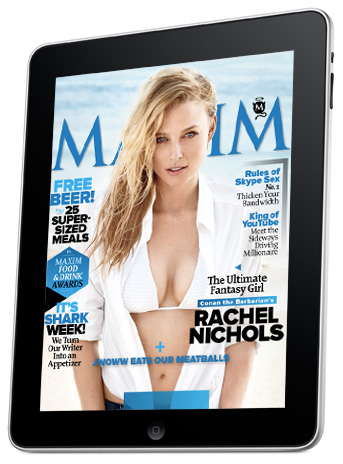 Get the Maxim iPad magazine in the iTunes store. There's a free preview issue, but you should buy the full one – it's worth it!
Whether or not you like pictures of girls, hilarious content or stories about beer, I recommend anyone creating magazines with Mag+ to check out this app. It's a great example of how flexible the platform can be, and how valuable being able to use a tool like Mag+ is for translating a brand to the iPad.
Maxim creative director Paul Martinez has created a rich and complex design, unlike anything we've really seen done on the platform before—super bitsy front-of-the-book sections combined with photo-heavy features—tons of content but in a way that feels satisfying, not busy. It's also a fun magazine, so you want video extras, interactivity and lots going on. It's the kind of book that just would not translate well shrunk down in a PDF replica. One of the things I love about how Mag+ design guru Patrick Albertson executed  Maxim+ is how seamlessly Mag+'s unique layers are used, HTML is integrated and pinning utilized. Some features use these things and some don't, but the whole thing feels of a piece and like a natural and dynamic way to consume the content. This was also the first iPad app where we really see a lot of the simple HTML trick that lets you make content scroll within a window; and our HTML wiz Adrian turned a fun flowchart story into a cool interactive game. I think it's a beautiful example of how Mag+ can let you maintain your brand's design and look but in a way that still feels totally native to the iPad and delivers a good user experience.
Check out all our articles about creating magazines for iPad